Braut & Jubiläum
Ein Verlobungsring symbolisiert die Liebe und Verbundenheit eines Paares. GERETTI Jewellers respektiert diese Bindung durch die Sorgfalt, mit der wir Ihnen bei der Auswahl des perfekten Rings helfen. Wir werden mit Ihnen zusammenarbeiten, um ein Stück zu finden, das den persönlichen Stil der Trägerin und Ihr Budget widerspiegelt. Auch Jubiläumsringe sind bei uns eine Spezialität.
Viele unserer Kunden kommen auf uns zurück, um das ideale Stück zu einem Jubiläum zu feiern – Meilenstein oder nicht. Egal, ob Sie einen Verlobungs- oder Jubiläumsring suchen, wir haben eine große Auswahl, oder Sie können den Anlass mit einem individuell gestalteten Ring von Geretti noch spezieller gestalten.


Handgravur
Gravuren verleihen eine persönliche Note, die einen Geschenkartikel oder ein Schmuckstück in Schätze verwandeln kann, die über Generationen geschätzt werden.
Reinigung und Inspektion
Juwelier GERETTI freut sich, Ihnen die Reinigung und Inspektion Ihres edlen Schmucks anbieten zu können, damit Sie viele Jahre Freude daran haben.
Wir empfehlen, dass Sie Ihren Schmuck jährlich reinigen und einmal im Jahr auf lockere Krappen, abgenutzte Fassungen und allgemeine Abnutzung überprüfen lassen.
Regelmäßige Reinigung und Inspektion helfen, den Verlust eines Edelsteins aufgrund beschädigter Krappen oder Fassungen zu verhindern. Besonders Ringedelsteine werden durch das tägliche Tragen zerkratzt und sollten überprüft und neu poliert werden, um ihre ursprüngliche Brillanz wiederherzustellen. Wir empfehlen Ihnen außerdem, die Ringe beim Putzen oder bei der Gartenarbeit abzunehmen und einen Ringbeutel zur sicheren Aufbewahrung Ihrer Ringe bereitzuhalten.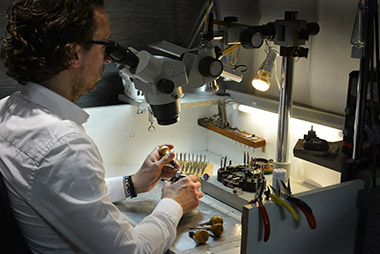 Jewellery Appraisals
Appraising your jewellery on our premises. Having certification from industry based organizations is very important in appraising your jewellery.
The appraisal has several intended uses: it will provide valuations for insurance replacement, fair market value and estate purposes as well as enable you to take inventory of these valuable assets. When you bring your jewellery to us for appraising, we will inspect it under a microscope, photograph it, determine its materials, weight, workmanship, condition and calculate a valuation. We will provide you a written report, which Geretti Jeweller's will also maintain on its premises. An appraisal is an important strategy in safeguarding your family's jewellery assets and most importantly to establish its value and a record of your important assets.
When you make your visit we will be sure to explain all the benefits of having your valuables appraised and help you to sort out the items worth appraising.
If needed Geretti jewellers will recommend you to a highly professional and most important, confidential, Insurance Company specialised mostly in covering Diamonds and Jewellery valuables.
Private Concierge Service
We will be sure we offer you individual services and make ourselves available at any time of day. Our shipping arrangements can include world-wide delivery. Our consultations are offered in a private setting to consult with you, identify specific gemstones and pieces of jewelry that fit your style and budget.
In our Private Viewing Room, which can be the most memorable part of a visit to our store, we will show you many one-of-a-kind creations in a quiet, relaxing environment. Our Certified Gemologist and expert diamond and jewelry consultants can help you find the perfect piece for your special occasions.