Mariage et anniversaire
Une bague de fiançailles symbolise l'amour et l'engagement qu'un couple partage. GERETTI Jewelers respecte ce lien par le soin que nous apportons à vous aider à sélectionner la bague parfaite. Nous travaillerons avec vous pour trouver une pièce qui reflète le style personnel du porteur, ainsi que votre budget. Les bagues d'anniversaire sont également une spécialité chez nous.
Beaucoup de nos clients reviennent vers nous pour la pièce idéale pour marquer un anniversaire - jalon ou autre. Que vous recherchiez une bague de fiançailles ou d'anniversaire, nous avons une large sélection, ou vous pouvez rendre l'occasion encore plus spéciale avec une bague conçue sur mesure par Geretti.


Gravure à la main
La gravure ajoute une touche personnelle qui peut transformer un cadeau ou un bijou en trésors qui seront chéris pendant des générations.
Nettoyage et inspection
GERETTI Jewelers est heureux de vous proposer le nettoyage et l'inspection de vos bijoux fins afin que vous puissiez en profiter pendant de nombreuses années.
Nous vous recommandons de faire nettoyer vos bijoux une fois par an et de les inspecter une fois par an pour déceler les broches desserrées, les fixations usées et l'usure générale.
Un nettoyage et une inspection réguliers aident à prévenir la perte d'une pierre précieuse en raison de broches ou de montures endommagées. Les pierres précieuses des bagues, en particulier, sont rayées par l'usure quotidienne et doivent être inspectées et repolies pour retrouver leur éclat d'origine. Nous vous recommandons également d'enlever les bagues lorsque vous nettoyez ou faites du jardinage et d'avoir une pochette à bagues à disposition pour garder vos bagues en sécurité.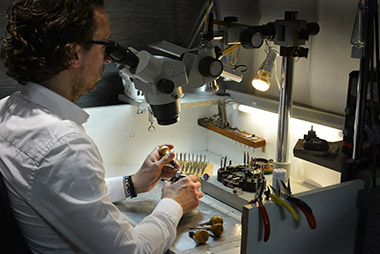 Jewellery Appraisals
Appraising your jewellery on our premises. Having certification from industry based organizations is very important in appraising your jewellery.
The appraisal has several intended uses: it will provide valuations for insurance replacement, fair market value and estate purposes as well as enable you to take inventory of these valuable assets. When you bring your jewellery to us for appraising, we will inspect it under a microscope, photograph it, determine its materials, weight, workmanship, condition and calculate a valuation. We will provide you a written report, which Geretti Jeweller's will also maintain on its premises. An appraisal is an important strategy in safeguarding your family's jewellery assets and most importantly to establish its value and a record of your important assets.
When you make your visit we will be sure to explain all the benefits of having your valuables appraised and help you to sort out the items worth appraising.
If needed Geretti jewellers will recommend you to a highly professional and most important, confidential, Insurance Company specialised mostly in covering Diamonds and Jewellery valuables.
Private Concierge Service
We will be sure we offer you individual services and make ourselves available at any time of day. Our shipping arrangements can include world-wide delivery. Our consultations are offered in a private setting to consult with you, identify specific gemstones and pieces of jewelry that fit your style and budget.
In our Private Viewing Room, which can be the most memorable part of a visit to our store, we will show you many one-of-a-kind creations in a quiet, relaxing environment. Our Certified Gemologist and expert diamond and jewelry consultants can help you find the perfect piece for your special occasions.