Huwelijken en jubileums
Een verlovingsring symboliseert de liefde en toewijding die een stel deelt. GERETTI Juweliers respecteert die band door de zorg die we besteden aan het kiezen van de perfecte ring. We zullen met u samenwerken om een stuk te vinden dat de persoonlijke stijl van de drager en uw budget weerspiegelt. Ook jubileumringen zijn bij ons een specialiteit.
Veel van onze klanten komen bij ons terug voor het ideale stuk om een jubileum te vieren, een mijlpaal of iets anders. Of u nu op zoek bent naar een verlovings- of jubileumring, we hebben een brede selectie, of u kunt de gelegenheid nog specialer maken met een op maat ontworpen ring van Geretti.


Handgravure
Gravure voegt een persoonlijk tintje toe die een cadeau-item of sieraad kan transformeren in schatten die generaties lang gekoesterd zullen worden.
Reiniging en inspectie
GERETTI Juweliers biedt u graag reiniging en inspectie van uw fijne sieraden aan, zodat u er nog vele jaren van kunt genieten.
We raden u aan om uw sieraden jaarlijks te laten reinigen en eenmaal per jaar te laten inspecteren op losse tanden, versleten bevestigingen en algemene slijtage.
Regelmatige reiniging en inspectie helpen het verlies van een edelsteen als gevolg van beschadigde tanden of bevestigingen te voorkomen. Vooral ringedelstenen worden door dagelijks gebruik bekrast en moeten worden geïnspecteerd en opnieuw gepolijst om hun oorspronkelijke glans terug te brengen. We raden je ook aan ringen af te doen bij het schoonmaken of tuinieren en een ringetui beschikbaar te hebben om je ringen veilig te bewaren.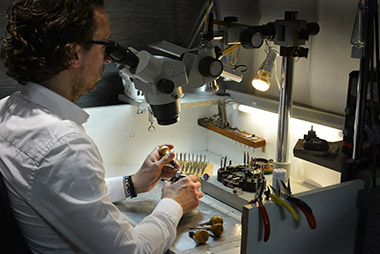 Jewellery Appraisals
Appraising your jewellery on our premises. Having certification from industry based organizations is very important in appraising your jewellery.
The appraisal has several intended uses: it will provide valuations for insurance replacement, fair market value and estate purposes as well as enable you to take inventory of these valuable assets. When you bring your jewellery to us for appraising, we will inspect it under a microscope, photograph it, determine its materials, weight, workmanship, condition and calculate a valuation. We will provide you a written report, which Geretti Jeweller's will also maintain on its premises. An appraisal is an important strategy in safeguarding your family's jewellery assets and most importantly to establish its value and a record of your important assets.
When you make your visit we will be sure to explain all the benefits of having your valuables appraised and help you to sort out the items worth appraising.
If needed Geretti jewellers will recommend you to a highly professional and most important, confidential, Insurance Company specialised mostly in covering Diamonds and Jewellery valuables.
Private Concierge Service
We will be sure we offer you individual services and make ourselves available at any time of day. Our shipping arrangements can include world-wide delivery. Our consultations are offered in a private setting to consult with you, identify specific gemstones and pieces of jewelry that fit your style and budget.
In our Private Viewing Room, which can be the most memorable part of a visit to our store, we will show you many one-of-a-kind creations in a quiet, relaxing environment. Our Certified Gemologist and expert diamond and jewelry consultants can help you find the perfect piece for your special occasions.