Bridal & anniversary
An engagement ring symbolizes the love and commitment a couple share. GERETTI Jewellers respects that bond by the care we take in helping you select the perfect ring. We will work with you to find a piece that reflects the personal style of the wearer, as well as your budget. Anniversary rings are also a specialty with us.
Many of our clients come back to us for the ideal piece to mark an anniversary – milestone or otherwise. Whether you seek an engagement or anniversary ring, we have a wide selection, or you can make the occasion even more special with a custom-designed ring from Geretti.


Hand engraving
Engraving adds a personal touch that can transform a gift item or piece of jewellery into treasures that will be cherished for generations.
Cleaning and inspection
GERETTI Jewellers is pleased to offer cleaning and inspection of your fine jewellery so that you may enjoy it for many years to come.
We recommend that you have your jewellery cleaned yearly and inspected for loose prongs, worn mountings and general wear and tear once a year.
Regular cleaning and inspection help to prevent the loss of a gemstone due to damaged prongs or mountings. Ring gemstones, in particular, get scratched from everyday wear and should be inspected and repolished to bring back their original brilliance. We also recommend that you take off rings when cleaning or doing gardening and have a ring pouch available to keep your rings safe.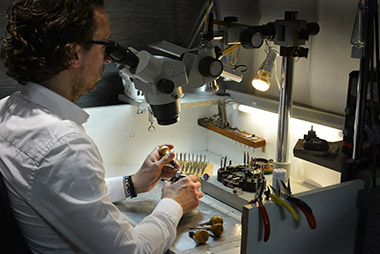 Jewellery Appraisals
Appraising your jewellery on our premises. Having certification from industry based organizations is very important in appraising your jewellery.
The appraisal has several intended uses: it will provide valuations for insurance replacement, fair market value and estate purposes as well as enable you to take inventory of these valuable assets. When you bring your jewellery to us for appraising, we will inspect it under a microscope, photograph it, determine its materials, weight, workmanship, condition and calculate a valuation. We will provide you a written report, which Geretti Jeweller's will also maintain on its premises. An appraisal is an important strategy in safeguarding your family's jewellery assets and most importantly to establish its value and a record of your important assets.
When you make your visit we will be sure to explain all the benefits of having your valuables appraised and help you to sort out the items worth appraising.
If needed Geretti jewellers will recommend you to a highly professional and most important, confidential, Insurance Company specialised mostly in covering Diamonds and Jewellery valuables.
Private Concierge Service
We will be sure we offer you individual services and make ourselves available at any time of day. Our shipping arrangements can include world-wide delivery. Our consultations are offered in a private setting to consult with you, identify specific gemstones and pieces of jewelry that fit your style and budget.
In our Private Viewing Room, which can be the most memorable part of a visit to our store, we will show you many one-of-a-kind creations in a quiet, relaxing environment. Our Certified Gemologist and expert diamond and jewelry consultants can help you find the perfect piece for your special occasions.